DJ Weimar - Hire DJs für Weddings, Parties or Corporate Events
thanks for finding mobydisc Weimar - DJ Service. For 30 Years we've been the name behind good music. At least when it comes to finding the right DJ for your function. Mobile Discos complete with sound and light equipment to cater for any kind of venue. So be it a wedding reception, a club night or just the next party in Weimar - Just give us a quick call or send a short email to get your quote an availibilty. Our DJs cater for any kind of music, because at mobydisc we believe that it is you, the host and the guests to choose what music you like.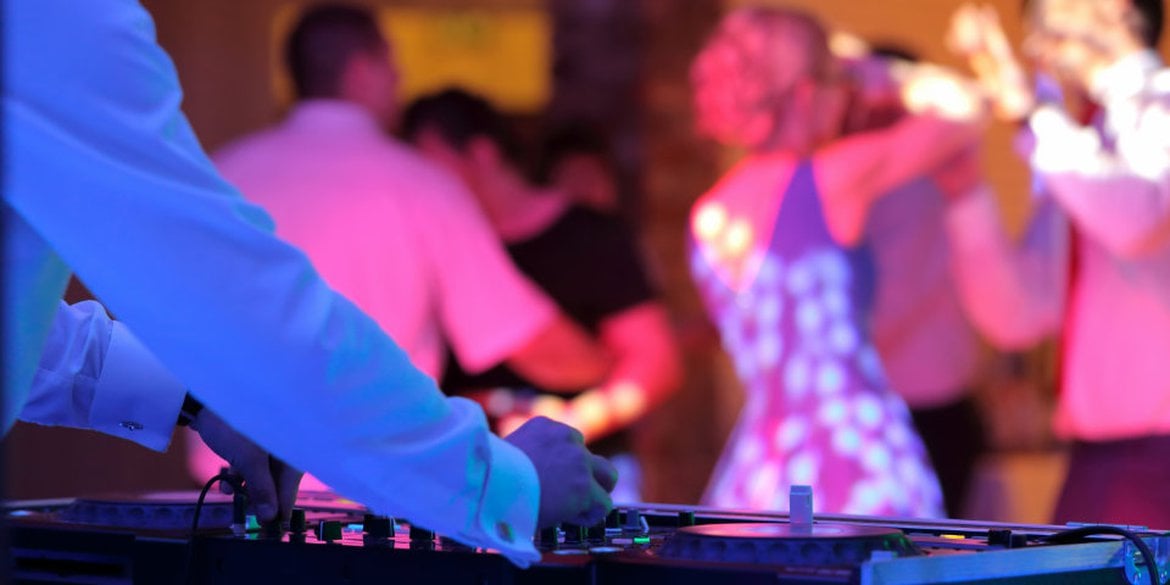 Booking a DJ in Weimar - The How to
Our special offer for DJs in Weimar
We look forward to sending you a quick rundown on the cost and availibilty for your date or even take a tentative booking free of charge.
By Phone
The quick and easy way to book one of our Weimarer DJs is to give us a call during our office hours. In a breeze we can ask you all the details we need to give you a quote on the spot and the cost for a DJ in Weimar kostet. We can also chat about your favourite music styles and what kind of equipment setup would be best for your venue
By Email
Outside offfice hours? Can't spend time on the phone? Just use the button in the top right corner to send us all the details we need for a DJ quote. To make sure you get the best price and service we need the Date of Function, the approximate Number of Guests and the venue (if it is not in Weimar . Please give us any information you feel we should know.
As soon as we get your enquiry, we will send you our quote and reserve the DJ for a day.
DJ Weimar - After the booking
Once you have booked your DJ... This is how we handle things. For peace of mind you will receive our letter of confirmation with all the details and terms we agreed to. Oftentimes there are still weeks or even month to go. Time to think about the types of music you want to hear. Of course you can also leave this up to your DJ, but as you know your guests best, it is always a good idea to give us some information on the types.
Music Requests for your DJ
The right kind of music for your wedding, party our event surely is one of the most important factors of making the night a big success. Of course there are other things, like the personality of the DJ and getting the right type of sound equipment and lights. But the music makes or breakts the party. The Mobydisc DJs from Weimar usually play two gigs a week and mostly these are private or corporate functions with mixed crowds of any age. So we have to know every type of music there is, be it Dance Charts, Evergreens or some good old German Hoompta Bands. Adn of course we mix that on the night and take requests from your guests. 
Music-request-sheet
Find our unique music request sheet here. Select all the types of music you like and let us know if there are any styles that you don't want the DJ to play. Often these are the most important choices.
Music Requests - Playlists
We are also happy to receive your playlists. You can find some suggestions on our spotify page, but send your favourite tunes to us, and we make sure the DJ gets these on the night. 
---
---
DJ meeting in Weimar
We often get asked if there is a way to see the DJ in action. Unfortunately most functions are privat events, so this is a bit difficult. But it is no problem if you want to meet up with the DJ that will play at your night
In person DJ meeting in Weimar
There will be a small fee, but you will have a one on one meeting with your DJ to talk about the music and how you want your night to be perfect. We usually do this 4 weeks priort to your function.
By phone DJ
In any case there will be a phone call between the host and the DJ shortyl before your function to discuss the latest changes if needed.
---
DJ Backup services in Weimar
To make sure everything goes to plan on your night, our office will be manned on Saturdays and our after hours service means you get to talkt to a real person even late into the evening. Even if a DJ calls in sick or there should be a failure with his equipment, we make sure to keep DJs on standby just for this scenario. Ususally you would not even notice something went wrong.
---
Reviews about Mobydisc and our DJs from Weimar
We know how much effort goes into the planning of any event of function. Especially if it is a wedding. This is why we take great care in the selection of our DJs in Weimar and our technical equipment. After any party, we send emails out to our customers, asking to review their DJ. This can stay confidential, but if we are allowed, we will publish this in the DJs Sedcard. Please find a few examples of our DJ Reviews here:
Das Büroteam
Aber mobydisc besteht nicht nur aus DJs. Unser 5-Köpfiges Büroteam sorgt vor und nach der Veranstaltung und hinter den Kulissen, dass alles rund läuft. Wir freuen uns dann eben auch prächtig über ein Feedback. Hier sind einige der Emails und persönlichen Zuschriften, die wir über die Jahre erhalten haben.
---
Über mobydisc
Die mobydisc wurde in Deutschland im Jahr 1990 gegründet. In dieser Zeit haben fast 2000 DJs für uns Musik auf mehr als 60.000 Feiern gemacht. Wir sind stolz darauf, dass wir unsere DJs selber ausbilden und mit der entsprechenden Technik ausrüsten. Seit 2015 haben wir unser Dienstleistungsportfolio noch erweitert. Bei uns könnt Ihr ausser einem DJ auch eine Musikbox mieten oder Karaoke leihen. Beides geht selbstverständlich auch in Verbindung mit einem DJ
Erfahrung aus mehr als 30 Jahren, 25.000 Veranstaltungen deutschlandweit, 300.000 weltweit
Umfassend geprüfte & geschulte DJs
Faire und transparente Preisgestaltung: Komplettpreise mit 30 Tagen Stornofrist
Unverbindliche & ausführliche Beratung
Full-Service mit Zusatzleistungen wie Sound und Licht, Karaoke und mehr.
More great music options
Did you know that we do more than DJs? We have extended our range of services into Jukeboxes and Karaoke
Hire a Jukebox in Weimar
The perfect solution for smaller events or smaller budgets. Our easy to set up, state of the art Jukebox. Find out more about hiring a Jukebox here
Karaoke Hire in Weimar
Our Karaoke services can be combined with your DJ, the Jukebox, or just by itself. We will deliver the Karaoke machine with everything you need to your doorstep. Or the DJ will bring it along. Find out more about our Karaoke machin hire here
Venues in Weimar (or surrounding) where our DJs have played
Are you still looking for a venue.. Anyhow we have a long list of venues and corporate clients that we played for in the recent years.. Here are some Weimar venues
Leonardo Hotel Weimar
Belvederer Allee 25
99425 Weimar
03643 7220

Homepage

Romantik Hotel Dorotheenhof Weimar
Dorotheenhof 1
99427 Weimar
03643 4590

Homepage

Villa Haar
Dichterweg 2A
99425 Weimar
03643 779880

Homepage

---