Your kind of music for your kind of party!
Without music live would be a mistake.. Good old Nietzsche said that. A bit melodramatic but one thing is for sure: Music can make or break your party. That is why our DJs make sure they are playing your type of music! You can tell your DJ about your preferred genres with out music request sheet (below) or explore our playlistbuilder! Choose your favourite songs and artists, save the playlist and come back later. When you're done, simply print out the list and hand it to your DJ the evening of your party.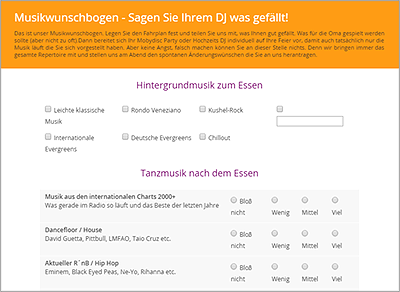 You can tell your DJ easily and without complications about which styles of music you want to hear - and which you dislike. Use our Music Request Sheet to stear him into the right direction!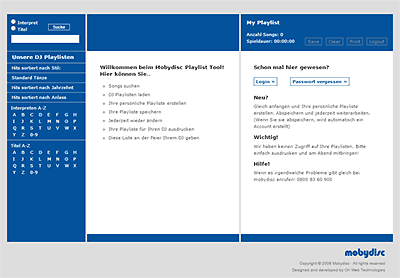 Song after song - select your favourite bands and titles. Search our database by genre, recommended DJ playlists or alphabetically. And if you cannot find a song that is very important to you, don't panic! You can tell us your wish over the Music Request Sheet. We will find and acquire the title for you.