DJ Düsseldorf - Your DJ For Wedding And Parties By Mobydisc
Hire a DJ in Düsseldorf
Welcome to Mobydisc DJ Service Duesseldorf, our branch in the centre of the Metropol Region Rhein-Ruhr. For the past 20 years our DJ Duesseldorfs have catered for some of the finest functions, wedding receptions and parties in the area. If you're planning to party in the Altstadt or in the outskirts. Call a mobydisc DJ to bring the music.
Any old tune you like
or modern of course! Duesseldorf has always been a city famed for music. Bands like Kraftwerk changed the musicworld, Marius started of here and the Toten Hosen are still one of Germanys best liked bands And anyone getting married around the world knows the wedding march by Mendelsohn-Bartholdy. With the DJ Duesseldorf, you can start off with background music by Schumann (another Duesseldorfer) and then start the dance with anything you like. Because we are not tied to any music. We will go into detail with you about what kind of music you like. Choose the types of music or song by song with a playlist. Have a look at our music page on how you can choose, you're favourites.
Duesseldorf DJ After hours service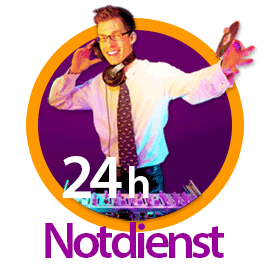 when you book a DJ with mobydisc, you're not left alone. We will guide you and help you in any way we can to help you plan the day. What type of DJ equimpent you need... Or special dance floor lightning to create the right atmosphere. The DJ will bring everything with him and set it up, well before any guests arrive. And during the night our after hours service is at the ready for you to over any emergencies. 24 hours, just in case..
Meet the DJ Duesseldorf
Maybe you would like meet the DJ in person. Well you can meet our team on a variety of bridal fairs in the months between November and February. In Duesseldorf we parttake in two large bridal fairs as well as some smaller bridal fairs by exclusive venues such as the Mutterhaus or the Hyatt. If you can't make it to these bridal fairs you can still meet the DJ Duesseldorf. Just give us a call. 
Read What other Clients have said about DJ Duesseldorf
Die Firma Mobydisc kann ich nur jedem empfehlen. Ich habe mich erst sehr kurzfrsitig an den DJ-Service gewandt, da der DJ der ursprünglich für meinen Geburtstag gebucht war, sehr kurzfristig und ohne Ersatz abgesagt hatte. Ich habe innerhalb weniger Stunden ein Angebot erhalten und einen direkten Anruf von einem sehr freundlichen Herrn, der mir alles nochmals erklärte. In einem persönlichen Telefontat mit meinem DJ wurde nochmals alles besprochen. Es war ein großartiger Abend...! So hatte ich es mir gewünscht! Vielen Dank
Ruth K.
None
Wir hatten Eure Karaoke Anlage zu unsere Feier gemietet und waren sehr angetan, wie leicht die Sache ging. Großer Spaß für die Kinder. Vielen Dank für den Reibungslosten Ablauf!
Michael
None
Alles super! Alle Musikwünsche wurden berücksichtigt und auch eigene CDs konnten eingebaut werden. Es war alles super und wir hatten nichts auszusetzen :-)! Sehr zu empfehlen!
Roland F.
Hochzeit DJ am 02.08.
Es hat alles super geklappt, die Musikwünsche wurden gespielt. Alle Gäste waren zufrieden, auch die Inhaber des Party-Kellers. Der DJ war flexibel und hat sich den räumlichen Gegebenheiten perfekt angepasst. Nochmals vielen Dank für alles.
Ralph K.
Geburtstag DJ am 15.02.
Wir hatten einen tollen Abend! Der DJ war super! Alle haben getanzt! Bis zum nächsten Mal.
Marion S.
Geburtstag DJ am 12.10.
Wir möchten uns ganz herzlich für die tolle musikalische Unterstützung bei unserer Geburtstagsfeier am vergangenen Samstag bedanken. DJ Andy hat einen super Job gemacht und unsere Gäste mit tollen Hits auf die Tanzfläche gezogen. Großes Kompliment! Eigentlich hätten wir endlos weitermachen können.
Ulrike und Stephan G.
Geburtstag DJ am 08.06.
Nochmal ganz vielen lieben Dank für die tolle Musik auf unserer Hochzeitsfeier! Wir haben uns im Vorfeld bei Ihnen pudelwohl gefühlt und der gute Eindruck wurde auf der Party bestätigt. Vielen Dank für den netten und fröhlichen DJ, der immer die passende Musik gespielt hat!
Michael T.
Hochzeit DJ am 07.03.
Party in Duesselorf
Not many cities have defined the word Party as much as the Duesseldorfians. Like all the major the cities along the Rhine the first big event of the year is the Duesseldorfer Karneval. But it doesn't sop there. Go to the Altstadt to party all night. And if you're planning a party yourself and are still searching for a good venue. Here are a few suggestions on where to turn to:
Das Mutterhaus
Hyatt Regeny Düsseldorf