Hire Karaoke DJs  - with mobydisc
Rent KJs for small and large Events
We've been renting out Karaoke machines and DJs for several years, now we have packaged them into one amazing fun product.. While you can still rent your karaoke machine with us, this will give you greater flexibility and ease of mind.
What is a Karaoke DJ?
Karaoke DJs are like any of our other DJs, but with extended schooling in the operation of our Karaoke systems to become a Karaoke DJ. The good thing is, he can do both: Supply Karaoke and fill the dance floor. He will bring all the necessary Karaoke equipment, connect wires and leads, sets up the Karaoke software for you and your guests. He will support you in the selection of the right tracks and be a technical guide, but he will not sing... Well we had to leave some of the work for you!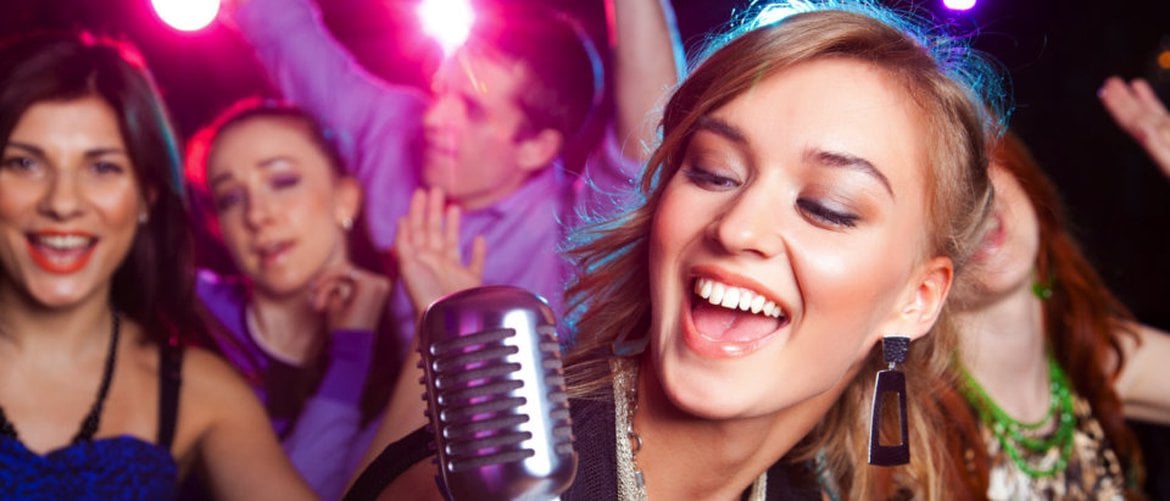 Lets face it: Karaoke is great fun, but usually not an attraction that can last a whole night. We do a lot of Karaoke Parties and we recommend to break things up a little.. Do a Karaoke session for half an hour... get on the dance floor.. Do another Karaoke session but always stop while things are still fun. And this is the good thing in combination with a DJ. Just hit the dancefloor!
What is in the Karaoke DJ package?
This very much depends on the size of your function (and the amount of money you are willing to part with) Start with our basic package as an example: It is a small Karaoke machine, yet powerfull enough for groups of up to 50 guests... But the set is fully expendable to any size you like... Feel good enough to fill a stadium? We'll use the base equimpent (just bigger speakers)
The basic Karaoke DJ package
The basic Karaoke machine is built round a singer/songwriter accoustic speaker. You get two microphones and an Ipad on a stand. The Karaoke software (that is the Karaoke player and the Karaoke tracks) are on this and you can choose your Karaoke favorites and build a playlist. You get 1000 tracks offfline, and if you can connet to the internet, then you will have access to an extended library of 20.000 Karaoke tracks. 
Extras that might be of interest
The disadvantages of having one tablet to choose songs and show the videos are:
Only the singers can read the lyrics
While a guest is performing, the tablet can not be used by others to select songs
For this we can supply you with a beamer, HDMI adapter and cables. Then the Ipad is used as a remote, while you can point the videos to any white wall.
Questions about our Karaoke DJs?
We are sure your event will be unique in some ways. Let's talk about it! Just give us a call or send an email about your plans. When using email, please make sure to tell us a little about the size of the event, the place and date. So we can give you availability and quote.. After all this is probably what you were after in the first place ;)
Rhein Main
Frankfurt
Mainz
Darmstadt
Aschaffenburg
NRW
Köln
Düsseldorf
Essen
Dortmund
Bayern
München
Nürnberg
Rosenheim
Aschaffenburg
Baden-Württemberg
Stuttgart
Karlsruhe
Mannheim
Bodensee
Berlin
Berlin
Potsdam
Brandenburg